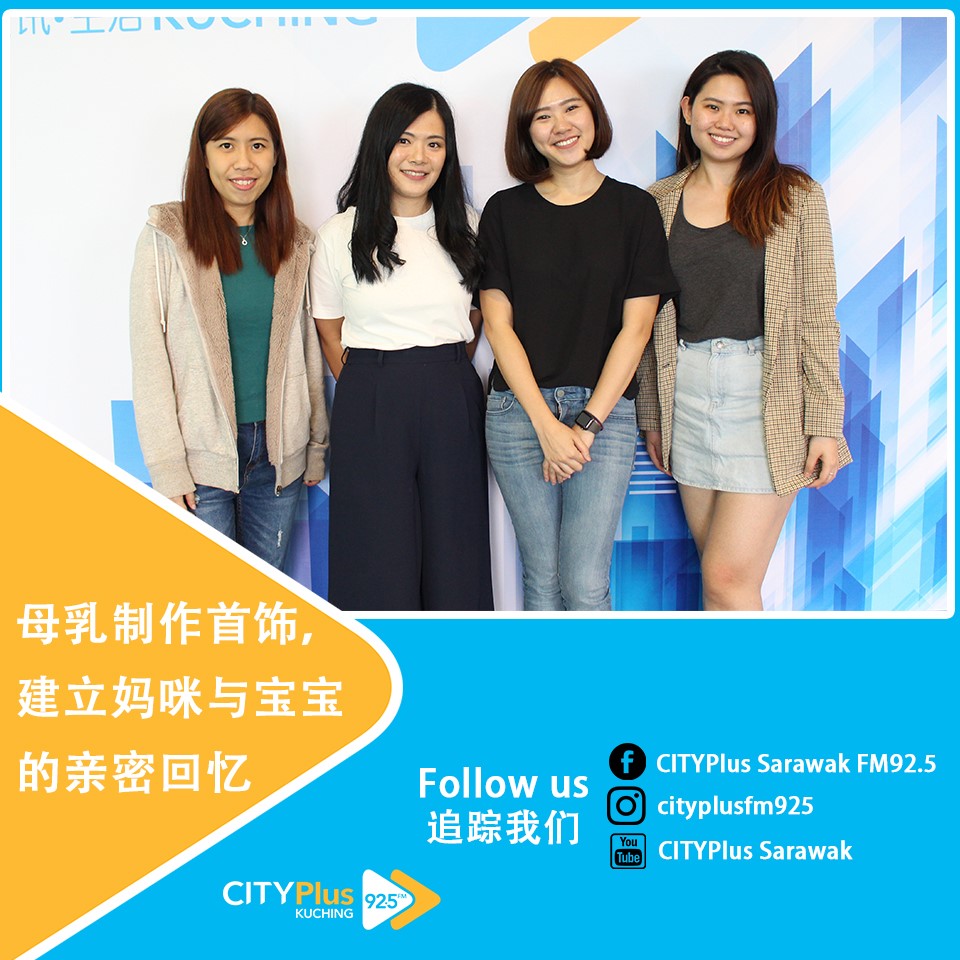 Click Here for Podcast: City Plus FM 【下班有话题】
English translation for Podcast as shown below:
Cityplus Sarawak FM92.5 Interview
DJ Ivy: Mothers are the greatest women in the planet. There is nothing like the bond between mother and child. When it comes to the keepsakes for the bond between mother and child, some might go for clay hand or foot print, sculptures, video, photos, voice recording, shoes and you name it to memorize the bonding between mother and child.
DJ Kristine: Yes, or can be jewelries for the child to be a memento for mother and child bonding. There are a lot of choices and varieties when comes to jewelry as an option. When we say about breastmilk jewelry, it will be something really different from a normal jewelry and it is more meaningful while it represents the bonding between mother and child. Breastmilk jewelry is more common in oversea but we can see there is breastmilk jewelry made in Kuching, Sarawak.
1. DJ Ivy: We invite the founders of Woodie Pie – Heidi & Cassandra. Welcome to this interview.
We just found out both of you are sisters but both of you look like friends. Can I know when did you start your business?
Heidi: We started our business in Year 2015. In fact, Cassandra was the one who started her business. She invited me to join and become her business partner.
Cassandra: I was a bank officer and I wanted to make a change in my life from routine which is from office to home and home to office. Then only I started to involve myself in business. Actually, we started our business with handmade soaps.
DJ Ivy: So, when Cassandra asked you whether you are interested, are you really keen to be her partner? Cause some might just asked for fun. Will you have the same thinking?
Heidi: Hrmm, I wanted to make a change because I was in the same routine as Cassandra do with my kids and work. Thinking of the make a change in my life.
2. DJ Ivy: Cassandra, as you mentioned both of you started your business with handmade soaps but how did you all goes to breastmilk jewelries after all?
Heidi: We started with handmade soaps. We were selling handmade soaps with the wood powders and flakes for scrubbing purpose and we receive order on breastmilk soaps too. There was a breastmilk soap order from a husband wanted to make something can last longer for a surprise to his wife. Then, he asked us whether we can make something like ornament or jewelry to his wife. Then, I started to do some R&D on breastmilk jewelry because of his request. I was a breastfeeding mother and I wanted to have a sort of like jewelry for myself too.
DJ Ivy: You suppose do not have any idea on how to do the breastmilk jewelry, am I right?
Heidi: Absolutely not.
3. DJ Ivy: Then, how did you find out how to work on it?
Heidi: We've been testing and practice on something related such as skin care and craft and my husband is in construction line then he assisted us with the question and we found the solution to put the element in our breastmilk jewelry.
Cassandra: We tried on different construction materials when we do the testing.
DJ Ivy: Wow, it is so special
DJ Kristine: Meaning you keep try an error to get the better result.
Heidi: We tried on the materials which is possible to involve in breastmilk stone and we will go for R&D in that area.
4. DJ Ivy: Then how long did you take to get the result?
Heidi & Cassandra: About a year.
DJ Ivy: Meaning it only published in Year 2016. Cool! I think it is not easy for 2 ladies to start a business and jewelry suppose is more feminine such as necklace, earring, bracelet and so on. We don't know that actually there are men contributed some assistances behind this business.
5. DJ Ivy: I would like to ask Heidi. You are a mother and you are working on breastmilk jewelries, what do think on breastmilk?
Heidi: Breastmilk only comes from breastfeeding mother not every mother can breastfeed. I think it represents love and sacrifices from breastfeeding mothers
DJ Ivy: I think only breastfeeding mothers will know how they sacrifice.
DJ Kristine: Yes. The greatest love from mothers
Heidi: If keep mother's breastmilk into jewelry then mothers can keep your breastfeeding journey or memories in the breastmilk stone and can let our kids understand the journey and difficulties of a mother. It can pass down to our children when they grow up.
6. DJ Kristine: Breastfeeding mothers can keep breastmilk jewelries for their children and pass down to them when they become adults. It is a very good memories to pass down to our next generation.
DJ Ivy: We might not remember how our mother breastfed us when we were baby. If it can pass down to our children, then mother can tell her children it is made from mother's milk and it can become a very meaningful keepsakes to children.Breastmilk jewelry is very common in oversea. In fact, it is not so common in Malaysia. Did you come across any difficulties when you switch your business core from handmade soap to breastmilk jewelry, Cassandra?
Cassandra: In fact, we came across difficulties and questions from public. It was difficult when we just started. For the first 2 years, we focus on R&D and educate public on breastmilk jewelries. This is a new industry and we don't have any guidance on how to work on it. We try to understand on how people increase the publicity and educate the public from the branding around us. We modified the strategies as we think can adopt and materialize it with our elements and concepts. We do not know whether we are in the right path, we just try in different ways to test the market.
7. DJ Kristine: I am curious whether the level of acceptance on breastmilk jewelries in Kuching consider as high or low?
Cassandra: I think is quite high.
8. DJ Ivy: You mentioned (before this interview) the order actually is more from West Malaysia? And I can see there more varieties on breastmilk jewelries. We can see rings, earrings, necklace, pendants, bracelet, ornament and more. Which one will be the most popular for mothers?
Heidi: Yes. When it comes to mother who like to wear jewelries, they will go for jewelries. When it comes to mothers who are not use to wear jewelries, they will go for ornament but some of them will just buy and for keeping purpose.
Cassandra: Most of them will buy for keeping purpose and pendants are the best-selling.
9. DJ Kristine: As I know you have more than 200 designs in your website and I am curious where did you find the supply of breastmilk?
Heidi: We have more than 500 designs in these 3 to 4 years throughout R&D. We have some limited editions and it could be delisted when it is out of stock. So, there are a small group of mothers are getting our limited editions. Meaning it only limited for few mothers on certain designs. About your question, how do I get the supplies from mothers? I was a breastfeeding mother and I was an oversupply mom and breastfed my younger child to 3 year-olds. I donated my breastmilk to GH (General Hospital) for months by that time and so I had sufficient breastmilk to work on R&D, of course for the recent samples you can see, we did use other mother's breastmilk for samples (we asked permission from the mothers)
10. DJ Ivy: Can I know whether you can accept expired breastmilk for the process of breastmilk jewelry?
Heidi: Expired, leftover and spoiled breastmilk is completely fine for the breastmilk stone process. We have an order from a person who kept her breastmilk for 8 years. She was overjoyed when she found us. We will recommend mothers keep the fresh breastmilk for her baby because breastmilk stone will not direct contact or apply to skin.
11. DJ Kristine: How much breastmilk you need when there is order?
Heidi: 5ml breastmilk needed for 1 breastmilk stone. The lowest requirement for 1-time process is 5ml for 1 breastmilk stone.
Cassandra: We will request for 30ml of breastmilk for the first order if possible.
12. DJ Ivy: Is it ok for you if they want to send more than 30ml of breastmilk after order?
Heidi: Yes! We will keep the extra for them and we will notify them how much breastmilk leftover for the next purchase.
DJ Ivy: So it work like a bank to keep the extra breastmilk.
13. DJ Kristine: What if undersupply mother still cannot get 5ml of breastmilk, can you still work on it?
Heidi: We still can work on the breastmilk stone and the color might be of the breastmilk stone might be lighter.
14. DJ Ivy: How can the mothers not whether it is their breastmilk after they sent their breastmilk for the process?
Cassandra: We will put a tag on every process and make sure the process is from the correct person. Customer will label their order numbers, name and contact when send the breastmilk to us. We had the experience there were customers with same name place the order on the same day.
DJ Ivy: Good. Then mothers will know which order belongs to them.
15. DJ Kristine: As I know breastmilk is get spoiled easily when there is no proper handling on it. How do you work on it?
Cassandra: We will do the sterilizing and preservation process on breastmilk receive then only solidify it. Spoiled breastmilk will not affect the process of breastmilk stone but we still work on some extra steps towards breastmilk received before the process.
16. DJ Ivy: So you have extra steps when come to solidification? Can it be shared to public?
Cassandra: It is business confidential.
17. DJ Ivy: Breastmilk jewelry is not common in Malaysia. Some might think it is weird and what is the most common question you get from public?
Heidi: They will question how long will it last? We actually using sort of like construction material to work on the breastmilk stone and we only minimize it to jewelry stone. It the building can last the stone we made will have the same lifespan as a building.
Cassandra: In year 2015, there was DIY kits on breastmilk jewelry. Public would think we were using the DIY kits in market to process the breastmilk jewelries.
18. DJ Ivy: So it was not using DIY kits, right? Cause you mentioned about the sterilizing and preservation process are not suppose to be in DIY kits, right?
Heidi: Basically, DIY Kit are made from wax. That is another question from public- Will the breastmilk stone melt? Cause DIY kits will melt when it is in high temperature. This is the common question we get in the first 2 years.
19. DJ Ivy: I just asking a question on behalf on mother- If I ordered a breastmilk jewelry, say it is a ring, can I wear it when I cooking? Will it melt when it is near to heat?
Heidi: It will not melt but we not recommend wearing breastmilk ring while cooking cause will get the scratch on the ring while cooking.
DJ Ivy: How do you educate public?
Cassandra: We only can go for more marketing. We had a video with the comparison on DIY kit and our breastmilk stone on our website. We put both of the stones in hot water (90-100 degree Celsius). You can see the different over there.
20. DJ Ivy: We can see that the breastmilk stone is in white or milky color. Will it become a restriction for you when it comes to design?
Heidi: It will not restrict us when comes to design. We will treat it as pearl, so it will look like breastmilk pearl.
DJ Ivy: But I see a lot of different colors there on your breastmilk stone.
Heidi: We can add glitters in it. We also can add hair curl, umbilical code, baby hair curl or hair curl from family (combine hair with mommy, daddy and baby).
21. DJ Kristine: Other than breastmilk can have other inclusion in it?
Heidi: Tooth also can. So wisdom tooth and milk tooth can be made in jewelry or ornament.
DJ Ivy: For mothers who keep your child milk tooth, you can consider send the tooth to Woodie Pie for the process. So the most difficult part is the color added in the breastmilk stone?
Heidi: Yes.
22. DJ Ivy: Did you count the maximum color you added in 1 breastmilk stone?
Heidi: We did rainbow color, 7 colors. The color adjustment need time to work on it but the it has a very short period for me to get all the colors done before it become solid.
DJ Kristine: So, you cannot get it wrong, right?
Heidi: We need to repeat the process when the outcome of color adjustment is not good. If there is bubble trapped, we need to redo too.
23. DJ Ivy: I am wondering why there will be bubble trapped in the process?
Heidi: Bubbles will be trapped when we do the mixing. We actually have equipment to reduce the bubble trapped in the process.
Cassandra: Normally we will process 2 to 3 times when we receive orders. Due to it is handmade jewelry, we will observe the curing in a week and if it needs to redo we will redo it.
24. DJ Ivy: How long will it take for the process if mother placed order and sent her breastmilk?
Heidi: Normally will go for 4 to 10 weeks. All orders will come to Kuching and will send out from Kuching when it is done.
25. DJ Ivy: Why it needs the longest 10 weeks to process?
Heidi: If the design required more colors, skills and redo it might need more time to work on it.
26. DJ Kristine: Is maximum 10 weeks including the postage period?
Heidi: Yes. Cause sometime will be delayed due to holidays.
27.DJ Ivy: You have orders from oversea?
Heidi: Yes. We received orders from Singapore and Australia at this moment.
28. DJ Ivy: Which is the most popular design in your orders? Basic milky color or colorful breastmilk jewelry?
Heidi: Basic design will be more popular. They will appreciate those design with colors
29.DJ Kristine: So their preference will be the original color of their breastmilk.
Cassandra: Yes. Cause it is the purest color from their breastmilk. Some they will think it can get the pure color if the other color added in the breastmilk stone. For those who appreciate with colors design they will keep at least 1 basic milky color and 1 color they according to their preference.
30. DJ Ivy: Do they need to take extra care on it? Will the glossy become lesser or the color will change after sometime?
Heidi: The breastmilk stone made from resin. It is similar to the coating on car. You can imagine for new car will have glossier on coating and when it comes to old car there is different on it. The basic color will change to more yellowish.
As for material, if it is 925 silver and above, it can brush with toothpaste when it gets tarnished. If it is silver/ gold plated then it can be polished but the price range will be lower. If you go for keeping purpose, we will recommend 925 silver.
31. DJ Ivy: How do we keep glossy longer?
Heidi: For breastmilk stone, it will speed up the yellowish when it is direct to sunlight. For the parts, we will recommend to keep it in zip lock bag and avoid air and oxygen to prolong the lifespan. Malaysia is a humid country; it will speed up the tarnish process.
32. DJ Kristine: Do you have any design for man?
Heidi: We do have some designs for man such as cufflink, ring, keychain and so on.
33. DJ Ivy: Cassandra, do you think man can accept breastmilk jewelry on them?
Cassandra: We seldom have man who buy breastmilk jewelry for themselves but we do have husband place order to give their wife surprise. If boyfriend and girlfriend, they will put their hair in the jewelry and it will not have breastmilk in it. If you can find your umbilical cord, you also can make it as breastmilk jewelry.
Heidi: Umbilical cord size would be bigger. Of course, the pendant looks bigger. If it goes the umbilical cord design on charm or pendant then we need to cut into smaller pieces to put into the jewelry.
34. DJ Ivy: As I know you do not have a physical shop. Will you consider to have a physical shop?
Cassandra: I think we will not go for physical shop because of the fixed expenses. We will focus to online business and we hope we can utilize our funds to create more designs and concepts on our products.
35. DJ Ivy: What do you cater the order when your order is getting more?
Heidi: We have few jewelry makers working with us.
36. DJ Ivy: I heard you mentioned you're the result of the process is really depends on mood?
Heidi: Yes. Patience. Sometimes might have a lot of bubbles trapped when the stirring is too fast. Sometimes when it comes to color adjustment will be to heavy and lighten if it is not in good mood. The result be nicer when the jewelry maker has good mood.
DJ Kristine: Yes, it is like cooking. You will cook something nice when you have good mood.
It also applies to the jewelry making.
37. DJ Ivy: Will you design according to mother's requirement?
Cassandra: We don't have this service at the moment but we do have meet up with mothers. They can share their ideas to us for our new designs.
Heidi: I think we need to let more people know more about breastmilk jewelry then only we can go for further expansion on designs.
Thank you!
-THE END-