Every piece of Woodie Pie Newborn Jewellery is made with care in our workshop before being sent out to customer like you. With proper care and maintenance, your jewellery can last you a lifetime.
Keep your pretty things looking their best, follow these general guidelines:
* Protect your pieces from sharp blows, scratches, chemicals and abrasives.
*The jewellery we make is delicate and not meant to be worn during activities such as sports, swimming, gardening or cleaning.
*When not in use, it is best to store your jewellery pieces in airtight zip bags or soft anti-tarnish pouches.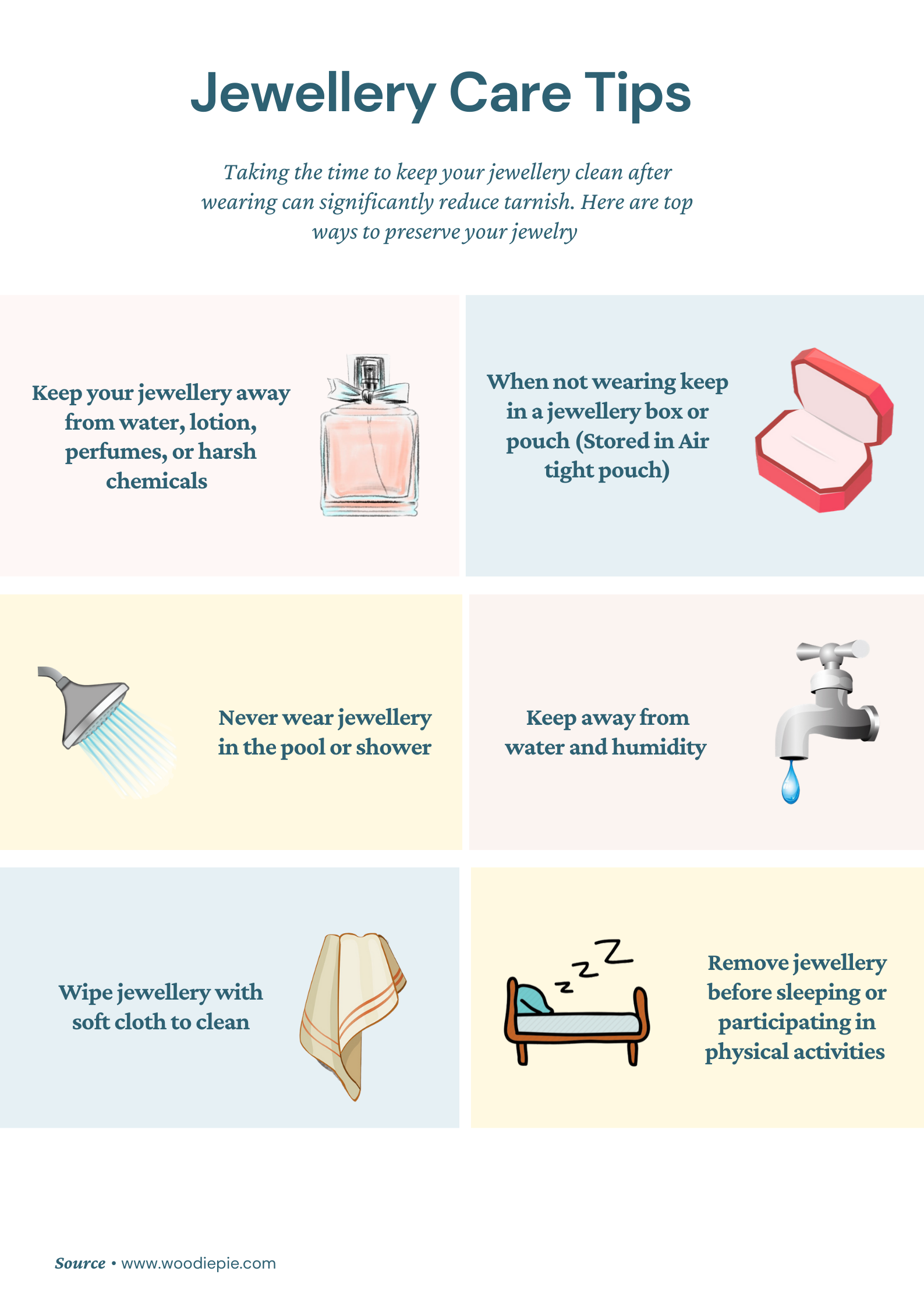 Sterling Silver / Silver 925

Sterling silver is great metal for jewellery. It is long wearing and easy to clean. While contact with the air will cause the surface of your silver to darken (called tarnish), it is easily cleaned up with soft polishing cloth, or baking soda powder.

You can wear your jewellery in the shower or to bed, but still remove it during activities where it will have contact with chemicals such as swimming or cleaning.

If your silver jewellery is dirty rather than tarnished, soak it in a bowl of warn water with few drops of mild dish soap. After about 15 minutes, gently brush off the loosened dirt with a soft bristled toothbrush. Make sure to dry the piece completely before storing.




Oxidized Silver

To protect the surface colour, avoid contact with lotions, perfumes etc. Remove rings when washing hands and do not wear your jewelry in the shower or to sleep.




Plated/ Vermeil

Plating is the application of a thin layer of metal to the surface of a jewellery piece. As with oxidization, the plating will wear away over time. To protect the plated layer, avoid contact with lotions, perfumes etc. Remove rings when washing hands and don't wear your jewellery in the shower or to bed. Do not use abrasive cleaners or polishing cloths on plated pieces. Plated jewellery not recommended for daily wear.




Stainless steel

Stainless steel does not corrode or rust. Although it is very durable, it can get scratched and stained. If your stainless steel jewellery get stained, soak it in the bowl of warm water with a few drops of mild dish soap. After about 15 minutes, gently brush off the loosened dirt with a soft bristled toothbrush. When jewellery is clean, you can use jewellery polish or polishing cloth to shine it.




Gold 916

Gold is the top quality jewellery, it won't tarnish or change colors, but still need to take care to avoid abrasives and chemicals as they can damage or even remove some of the gold. If you gold jewellery gets dirty, soak it in the bowl of warm water with a few drops of mild dish soap. After about 15 minutes, gently brush off the loosened dirt with a soft bristled toothbrush. Make sure to dry the piece completely before storing.

">